Public weather briefing
After a significant cool down and some decent snowfall, skies will clear and temperatures will continue to drop before recovering as we head into the weekend. Lows tonight will be well below zero and will remain in the single digits for Thursday night. By Saturday highs will be in the mid to upper 30s with a chance for snow and possibly light rain. Possibility for rain increases heading into Sunday. Early next week expect high temperatures to stabilize in the mid 20s and partly cloudy conditions.
Forecast
Tonight.

Clearing with
light northerly winds. Lows diving down well below 0.
Thursday
.

Mostly sunny with light winds. High around 15.
Thursday night.

Partly clear and cold. Lows dipping back to the single digits.
Friday.

Partly Sunny and warming. Moderate winds out of the southwest. High of 30. Low around 20 overnight.
Saturday.

More clouds roll in, but greater warming brings temperatures in the mid to upper 30s.
Outlook for Sunday through Tuesday.
Mild temperatures and partly cloudy skies on Friday, possibility of precipitation with warmer temperatures in the upper 30s Saturday. Increasing chance for light snow into Sunday with highs in the upper 20's. Monday highs return to the mid 20s with partly cloudy conditions.
[CONFIDENCE: MEDIUM]
Forecast Discussion
Heading into the overnight hours, clearing skies and winds out of the northeast will advect a cold air mass and add to the effect radiational cooling. These factors will cause temperatures to plummet. Southwesterly flow over the mountains will force widespread adiabatic warming, maintaining moderate temperatures in Central United States. The combination of these cold and warm air masses will compress the temperature gradient across the Northern United States, forcing a frontogenetical circulation. This will support upward vertical motion and bring a decent chance for snowfall for the Northern States.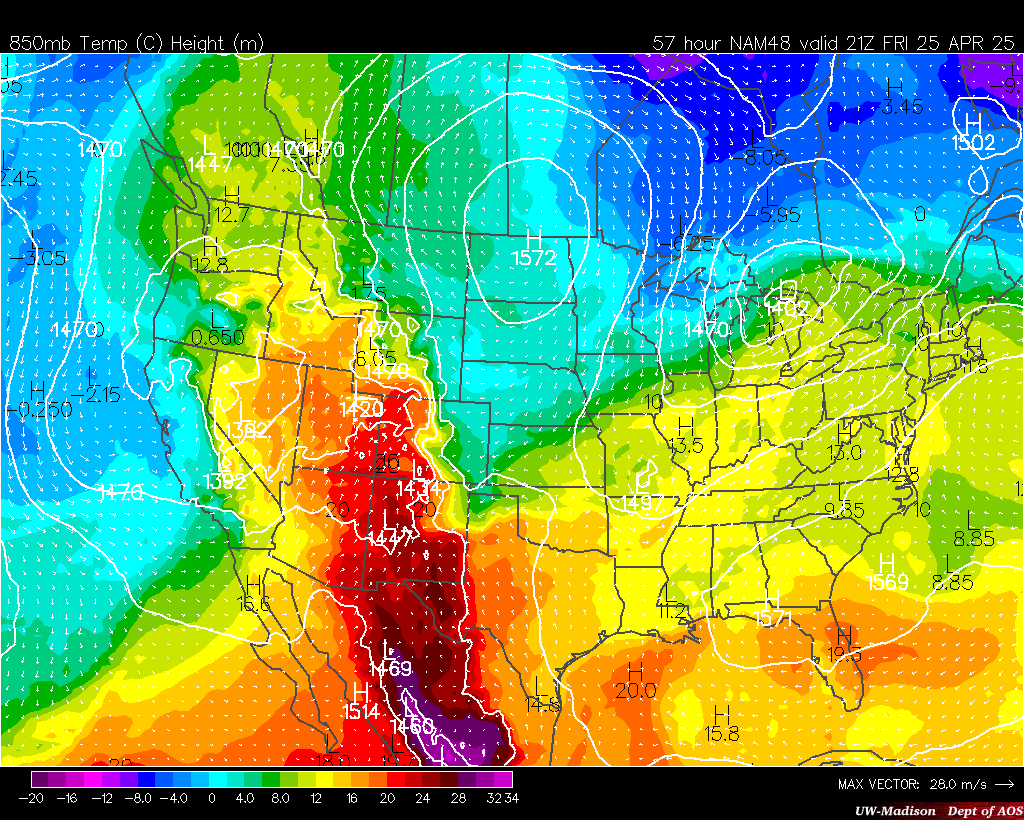 Ryan Tvedt
Samuel Hartwick